La Volpe Dorata - Private Hospitality - Stresa
10% discount with prepayment on booking
La Volpe Dorata is an enchanting villa surrounded by nature and absolute tranquility with a splendid terrace overlooking Lake Maggiore, in the most exclusive residential area of ​​Stresa. The harmony of the spaces and the architecture inspired by Frank Lloyd Wright, archistar of the last century, are the qualities of this villa residence, arranged on three levels, embellished with walls interspersed with large glazed windows that highlight the external landscape guests in continuous relationship with in the lake, the mountains and the surrounding nature. The large interior spaces distributed with harmony and good taste, are enhanced by design elements. The villa has 4 double bedrooms. The rooms are redone every day with great care. The villa offers free WIFI, private parking, garden and swimming pool with solarium. Each room is equipped with satellite TV. There is free access to all areas of the villa, the large terrace where breakfast is served in season, the lounge, the billiard room and games, the garden and the pool. Stresa is a 5-minute drive and a 15-minute walk from the Golden Fox. Breakfast is "continental" and packaged, or fresh with a selection of cold cuts, regional cheeses and artisan cakes. For those who have special dietary needs for intolerances or allergies, please let us know when booking and we will be happy to provide for your needs. Breakfast is served from 8.00 in the morning onwards. NB: We are not allowed to cook and serve eggs. Check-in is from 13.00 to 20.00 and check-out is before 11.00. Check-in and check-out times can be flexible according to your needs. For special requests, please let us know. After 24 hours check-in will have a cost increased by € 10.00 per hour. Please kindly inform us of the arrival time. We are always present with a continuous service.
Prices of La Volpe Dorata - Private Hospitality
Until March 29, the prices are: ROOM AVORIO = 90 ROOM BLUETTE - ROOM SMERALDO - GOLDEN ROOM = 140 FROM 30/3 TO 31 OCTOBER ROOM AVORIO = 100 ROOM BLUETTE - ROOM SMERALDO - GOLDEN ROOM = 150 Special welcome for direct bookings. MINIMUM STAY 2 NIGHTS SPECIAL PERIODS PRICES VARY CHRISTMAS - NEW YEAR - EASTER
The Rooms of La Volpe Dorata - Private Hospitality
Location of La Volpe Dorata - Private Hospitality
Stresa (Italy) - Via Vignolo 15, Stresa
How to reach La Volpe Dorata - Private Hospitality
IF YOU ARRIVE FROM GRAVELLONA HIGHWAY - Take the Carpugnino exit and follow the signs for Stresa. - Continue on STRESA-BINDA-PASSERA up to the Binda-Passera - La Volpe Dorata indication. - Turn right and continue for about 800 meters. until, on your left, you will find Via Privata Vignolo. - Reach house number 15. Ring the bell on the right column. IF YOU ARRIVE FROM LAKE MAGGIORE - STRESA - Follow the signs for the motorway until, in front of you, you will find the signs BINDA - PASSERA. - Continue straight on to the Via Privata Vignolo which you will find on the left, continue until no. 15. Ring the bell on the right column.
La Volpe Dorata - Private Hospitality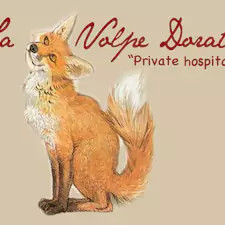 Private hospitality, I wanted to call it that even if the right word would be "MY private hospitality". Hosting, sharing emotions ... in my own way. Taking a vacation today is more than just staying in a pleasant place. In my opinion it is to be discovered, try to understand it to the end with the help of those who live there for some time and draw emotions and pleasures to remember. That's why I decided to open my homes. I loved them, built so carefully in every detail. And my love for them will contend you. They say I am a "Milanese lady" full of energy who was lucky enough to live a life full of interesting experiences; but for me living means to get involved and for this reason I decided to open my doors to welcome you, providing my hospitality and sensitivity, to make you feel completely at ease on a holiday that ... you will remember with pleasure. From quiet to shopping, from the quality of an excellent restaurant to the most engaging trips: serenity, emotions and pleasant discoveries will be the best memory of your stay. And for me it will be a great satisfaction to receive the world and give a memorable experience. Greggio Guendalina